All About Bike Commuter Bags
You need to get there with all your stuff - work clothes, lunch, spare tire kit and whatever other goodies you want to haul around. There are a few different ways to accomplish this, here are a few favorites.
---
Single Pannier
A pannier is a "saddle bag" of sorts that hangs from a cargo rack over your rear wheel. They are very handy, most of them snap onto your bike for a secure ride, and snap off agian so you can take the whole bag inside with you. The single pannier does not affect your balance like it seems it would. You can't really tell that it's there at all.
---
Double Pannier
Same as above with twice the storage capacity.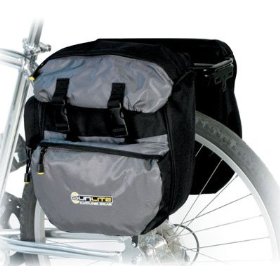 ---
Messenger Bag
Messenger bags are quite popular. They are usually waterproof, and always stylish. Sling it over your shoulder and you are ready to go.
---
Waterproof Backpack
I guess it doesn't have to be waterproof, but it's nice if it is. Water can leak into regular backpacks while you're commuting and put strange wet spot on your folded work clothes. This is my preferred option. I have the Ortlieb Messenger Bag and I love it. Expensive, but roomy, and better than arriving at work with what looks like pee pants.
---
Saddlebag
This is what most cyclists will call a "saddle bag" because it is attached to the saddle. I have one of these too. It's great for keeping a spare innertube and tools, so that stuff is always attached to the bike, even for pleasure rides where I don't need my full backpack.
---
Trailer
I see more of these things all the time - often with kids in theme (the ones made for kids, not this one). Looks like a great way to get groceries.